I dropped a lot of people off my knit-for list this year in order to have half a shot at getting it all done...and still didn't make it. But there were many successes!
Alas, my brother's cardigan was not one of them. The plan for him was to rip out the
hoodie I'd made for him
four Christmases ago (it was an extra-large, and he's since lost a lot of weight, so it was no longer wearable) and use the yarn to make
Seanair
. He's really into "grandpa" style sweaters, so this was guaranteed to be a big hit. Unfortunately, although I started in March and made excellent progress, other things kind of caught up with me and by Christmas day I had only the bottom fronts and the back completed. In addition, I had a sneaking suspicion that something had gone terribly wrong somewhere, because once I divided for the armholes and was able to lay the whole thing out, it looked big. Like, really, really big. Like, no WAY was this thing only 46" around big.
After he unwrapped it, I held it up to him and my fears were confirmed.
Huge.
Fortunately, he was really excited about it, even though he knows I have to rip it all out and start again.
I measured it yesterday. I am getting sixteen stitches to four inches in the gauge pattern...I'm supposed to be getting TWENTY-FOUR. I also measured the circumference: SIXTY-TWO INCHES.
Clearly, I will need to do some serious swatching to bring this thing down to size. I plan to do this in February after I've finished the knitting for my grandmother's 100th birthday and DD1's boyfriend's bar mitzvah.
My older BIL received only one
sock
on Christmas morning:
But I cast on for the second sock on Boxing Day afternoon and had a completed pair for him before I went to bed:
My niece got a
Sugar Stick cowl
, modelled here by DD1:
DD1 also got shafted on the morning of Santa Day, as I had only one
Converse-style slipper
done for her:
However, her reaction to just the one slipper was EPIC, and she happily wore the singleton around the house for two days until I could finish the second one:
She's ecstatic about them. :)
DD2 really loved her
Citron
cape: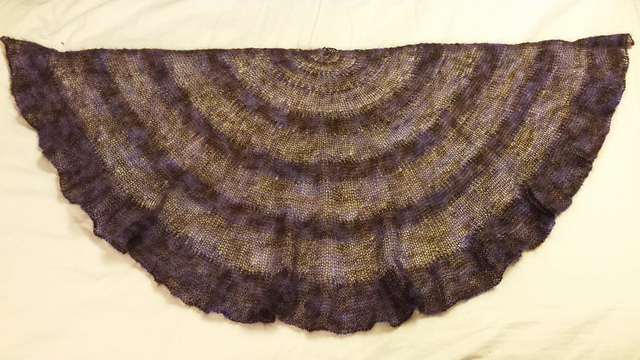 DD3 adored her
owl
:
(Although the glue has come off around part of one eye; I'll have to fix that.)
DD1's friend got
Florenz
socks:
And then all the teachers got holiday presents. DD1's teacher got a hat I can't show you, because I designed it and submitted the pattern to a yarn company shortly after Christmas. But DD2's teacher got a
Tartessos
shawl:
DD3's teacher got a
scarf
to match the mittens I made him when he was DD2's teacher:
And DD3's ECE got a
beret
:
Finally, I managed to get gifts knitted for my cousin's children in time to pass along to my aunt for delivery before she left to spend Christmas with them. Their older girl got a
poncho-y sweater
:
And the baby got a little
tunic top
:
So there you have it - thirteen holiday gifts, twelve of them completed by December 27. Could have been worse.
As for myself, I got some lovely goodies. DH and the girls got me eight balls of Merino Mix DK weight yarn from Katia:
So many of the big items in my queue call for DK weight, and I never seem to have very much of that in my stash, so this was a very welcome present. I treated myself immediately after Christmas by casting on for
Sotherton
:
So much fun! Of course, as previously mentioned, I've got some hard knitting deadlines coming up in the next two weeks, so I'm going to be putting this away after today. It lives in my new project bag by
JessaLu
(thank you, Mom, Dad, and bro!):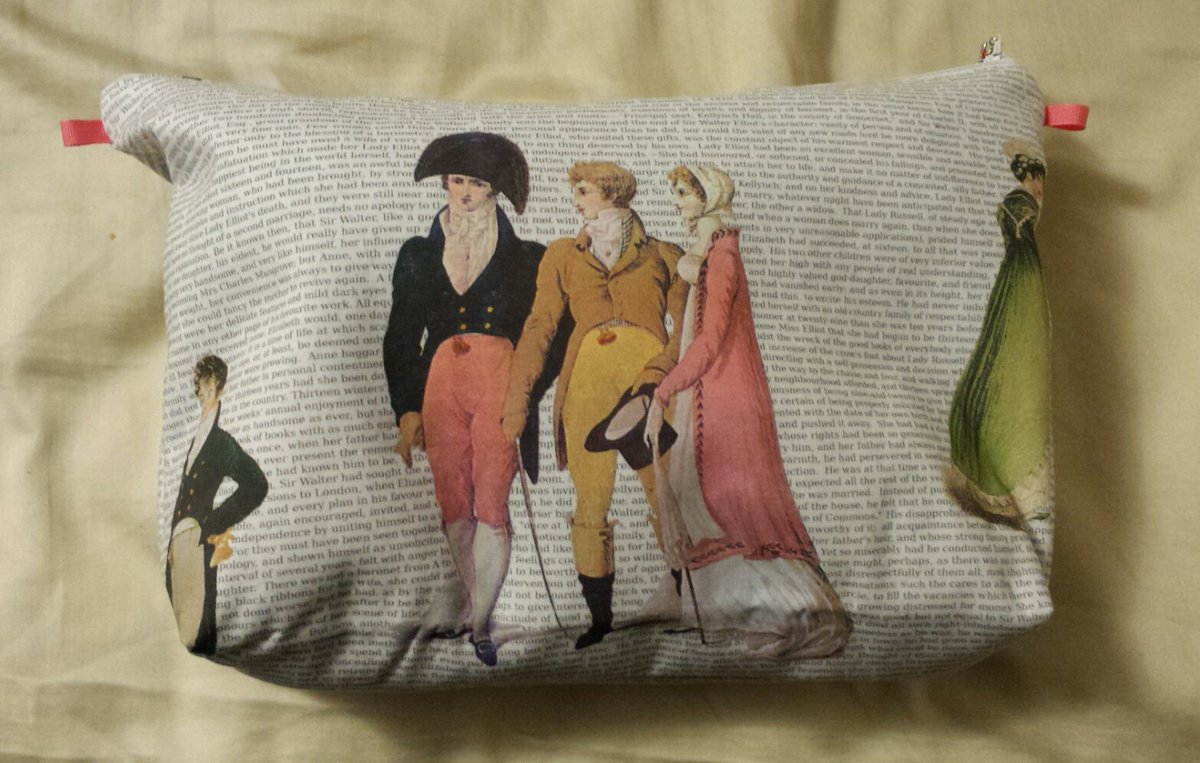 I feel this is extremely appropriate, given that the pattern comes from
Jane Austen Knits
!
So it's been a good holiday season Chez Insanity this year. If you celebrate, I hope it's been wonderful for you, too. And all the best in the New Year for happiness and good health. As for me, I'm planning to get a head start by resuming the panic January knitting tonight while watching my new
Battle of the Five Armies
DVDs!