It's super-overdue, but I finally updated the look of the blog! (As you will no doubt have noticed.) I think it's fresher, cleaner, and it's going to be easier to maintain my list of designs, too. I'll probably be adding an "about me" kind of page, and I might move some of the stuff in the right sidebar to a separate page, but overall I'm pleased, and I hope this is going to make it easier for me to write up blog posts more frequently.
I've got a new design I've just released, too - a double knitted cowl called Jianzhi:
As you would expect with a double knitted item, it's reversible and double-thick. Big and squishy - great for really cold days.
Since it's worked in the round and has a simple repeating pattern, it also makes a great first project for people who haven't done double knitting before. If you know how to knit, purl, work in the round, and read charts, you're all set - the double knitting concepts are explained in the instructions.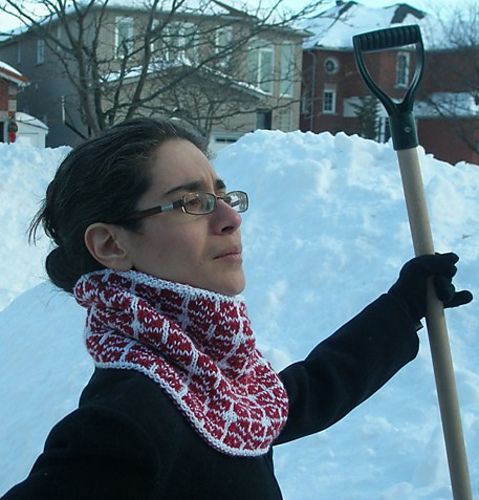 If it strikes your fancy, you can go ahead and buy it now!