(Almost done getting caught up on talking about my projects after months of blogless knitting)
So in my last catch-up post, I promised to talk this time about small projects I've been working on that come in pairs. There have been many of them!
For Mother's Day this year, I got two balls of "Darling" sock yarn, from Katia, in a really nice colourway:
I turned it into socks for me!
Pattern is "Viking Socks" by Karen S. Lauger, which has been in my queue for ages. Great socks.
Actually, I've been working from the queue quite a bit, because I also made some "Double Heelix" socks, by the lovely Jeny Staiman, for DD1:
DH got a pair of socks for his birthday, made from my ol' reliable Hat Heel pattern:
I used the same pattern in a smaller size for DD3, using the leftovers from my Viking Socks:
(She loves them.)
More queue-busting occurred when I made some more socks for me using the "Circinus" pattern, by Rich Ensor:
And the "Ornette" socks, by the ever-faboo Cookie A:
They were also for me. I adore them.
And the "Nemesis" socks by Susan Dittrich:
These are destined to be a Christmas present for my oldest BIL.
And the gorgeous "Jane Bennet Socks" by Rachel Coopey, for my niece's Christmas present:
And the amazing "Fightin' Words" by Annie Watts, for my brother's Christmas present:
At his request (he saw this pattern over my shoulder one day and went nuts for it), I recharted the right mitten so it would say "PLOW" instead of "POW". (He drives the zamboni at work, which is also referred to as "the plow".)
And for myself, I've almost finished "Water for the Elephants" by the very talented Rose Hiver - I just need to block them and weave in the ends:
And I got started on some "Stitch Surfer" socks by Louise Robert:
And I decided to make the "Naniboujou" socks by Chrissy Gardiner for my dad for Christmas:
Except it's just really tough mentally to wade through. Not the instructions, I mean; just the knitting of the sock itself. For some reason, for me personally, it just drags and I've been finding all kinds of excuses not to work on it. Sorry, socks. And sorry, Dad.
And (by golly I've been good about working from my queue, eh?), I got started on a pair of "Absinthe" socks by Sara Morris, for DD1:
(Sorry about hurting your eyes there.)
Michaels was having a sale on "Serenity Sock Weight Prints" by Premier Yarns, so I bought two balls and used my Hat Heel pattern again to make socks for my two oldest daughters. DD2 got a purple pair:
And DD1 got a cheerful multicoloured pair:
DD1 gives this yarn a big thumbs-up; she says it's not itchy at all, and she's quite sensitive to that sort of thing (I get complaints about the itchiness of her other socks a lot.)
DD2 needed a new pair of mittens this winter, so I sized down the needles on my own Minaret Mittens pattern and produced some: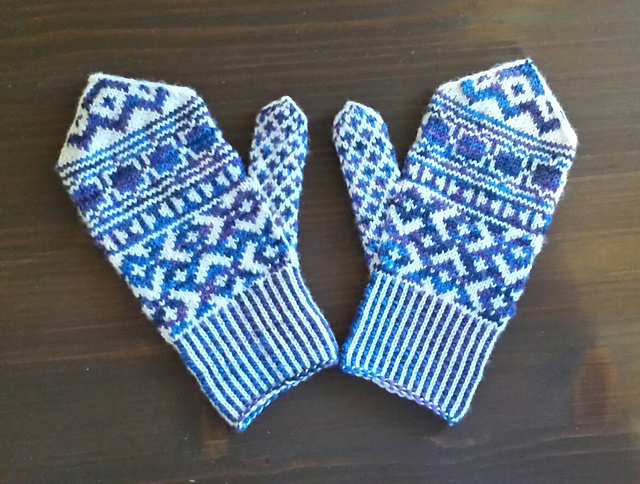 In June, I started making another pair of Hat Heels for DD3 out of the leftovers from DD1's Double Heelixes:
...But I pretty much ran out of yarn after finishing the foot. I started using another yarn for the legs, but I ran out of that, too, so now I'm not sure what to do and it's been languishing for so long DD3's feet might be too big for it now! But every now and then she reminds me about them so I think I need to finish them soon or I'll be in trouble. :)
Wow...that's a lot, huh? Next post will hopefully be the last catchup one, and I'll talk about all the remaining projects I've been working on that are not small pairs of things!