(Still more recapping of months of blogless knitting)
Although blogging failed to happen with any regularity since about the beginning of March, there was a lot of knitting getting done around here. Some of the knitting was very ambitious, too. And by "ambitious", I mean "big".
For example, I've made great progress on the Lestrange Cloak I started after Christmas:
(That's been put aside for the moment, though. A definite shame; I will have to get back to it soon. And I only just noticed when taking the shot that I missed knitting a whole section at the top right front. And I'm really worried about how long the sleeves are. I think when I start back in on this, there will be a lot of redoing. Joy.)
Then, I finally got off my heinie and frogged the way-too-large cabled sweater I made for my husband a number of Christmases ago:
And - in a streak of non-laziness very uncharacteristic for me when it comes to re-using frogged yarn - I have actually been soaking and re-skeining the yarn to get out the kinks!
I frogged the thing because I had made it in the large size, which turned out to be far too big because my husband is a medium-sized man. (The annoying thing is that I originally started making a medium, but then got fooled by the ribbing into thinking it was going to be too small, so I ripped it back and made a large instead.) I am now re-making it into the medium it should have been all along. Progress is excellent, although currently stalled - I have finished the front and the back and am about to start on the sleeves. Here's a shot of the back; the front is very similar except, of course, with a deeper neck:
My plan is to give this to DH for Christmas this year. Given that it's November and I haven't worked on it for months I'm not sure how much of a shot I have of hitting this goal, but we'll see.
At some point this spring, I was feeling a bit of knitting ennui and decided to spice things up with a nice sweater for myself. I had a bunch of black Stroll from Knit Picks, so I figured I could bust out a Lewis for myself. Alas, my math brain was apparently turned off the day I decided I had enough of the black Stroll, because I totally did not. (Or so I thought.) I ran out juuuust as I was about to finish off the second sleeve, with all the finishing edges (and there's quite a bit of that) still left to go:
Recently, however, not only did I buy two more balls, but I also unearthed an extra ball I didn't know I had from the depths of one of my knitting bags! So I've been doing some finishing lately - hem edging and starting to lay things out for the sleeve sewing.
Then, during the summer, one of my cousins from Australia came visiting for several days as part of a big North American holiday she was taking with her husband and children. We had an absolutely marvellous time being with her family and doing fun touristy things. The reason all this is relevant to the blog is that as a "hi, we're visiting" gift for me, she brought some really scrumptious yarn - a merino/possum/silk blend. (Sadly, the yarn is not from Australia as she had intended, but rather New Zealand - she had gotten in touch with an Aussie LYS in the hopes of finding something unique and local for me, but the shop owner was apparently very unhelpful and without any suggestions, so she ended up contacting a shop in New Zealand instead and got much more fabulous results.)
I realised that I had just about exactly enough of this to knit something that's been in my queue for ages: Jeanie, by my friend Keri, who is from New Zealand!
The whole combination seemed deliciously fortuitous to me, so I cast on almost right away. I've never used so many stitch markers in a single project in my life (and I normally dispense with stitch markers in favour of simply reading the knitting; so you gotta know that in this pattern, those markers are really important), but I'm really happy with how it's coming out: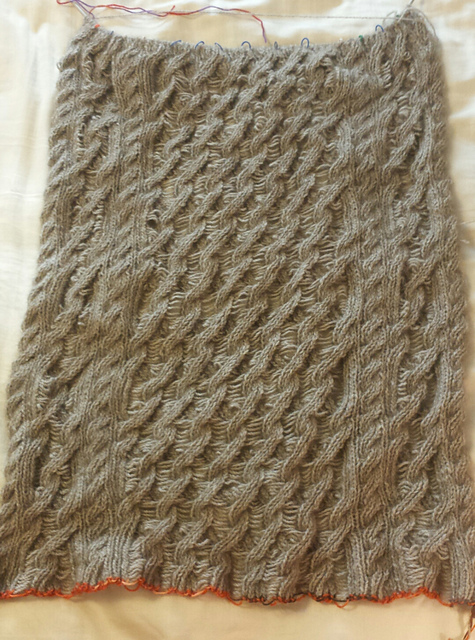 The final big thing I've been working on is a lacy sweater for DD1. As she is constantly growing and has no older sisters to give her hand-me-downs, she is often in need of wardrobe supplementation, so a few weeks ago we went shopping. We found a really cute lacy sweater that was unfortunately a touch too small (something she totally can't get away with anymore what with her current rate of growth). She was really bummed that we couldn't buy it, so I assured her I could make her one to her exact specifications instead. (I must be crazy to promise such things, but that's what I did.)
She has since selected some yarn:
She also selected a stitch pattern, but it was unfortunately one of those kinds which "drifts" to the side as you move from repeat to repeat, which made decreasing for neck and sleeves a total b***h. After watching me struggle for a while, DD1 then suggested that I just try the Tonks' Togs lacy oversweater from The Unofficial Harry Potter Knits/Knitting Wizardry. That was a genius idea. I calculated how many fewer stitches and repeats I would need, and got going. Even with all the other projects I have on the needles, I was able to make good progress, and now I'm just finishing up the neckline:
Next up in the backlog series: Many small things! (Pairs of 'em!)